How to Style White Denim Jeans! I know a ton of people, myself included, wear white all year long. Now that Easter has come and gone, it is 'official'! Now is the perfect time to get a crisp new pair of white denim jeans! Without a doubt, white denim pairs so well with so many looks! Please, don't be scared of White Denim! I will show you a few ways to confidently style white denim jeans.
BUT FIRST…THE JEANS
My pick for white denim this year? These Cropped Kick Flare jeans from J. Crew are amazing! I'm really excited to have a pair of white jeans from them this season and I'm going to break down why I love these so much!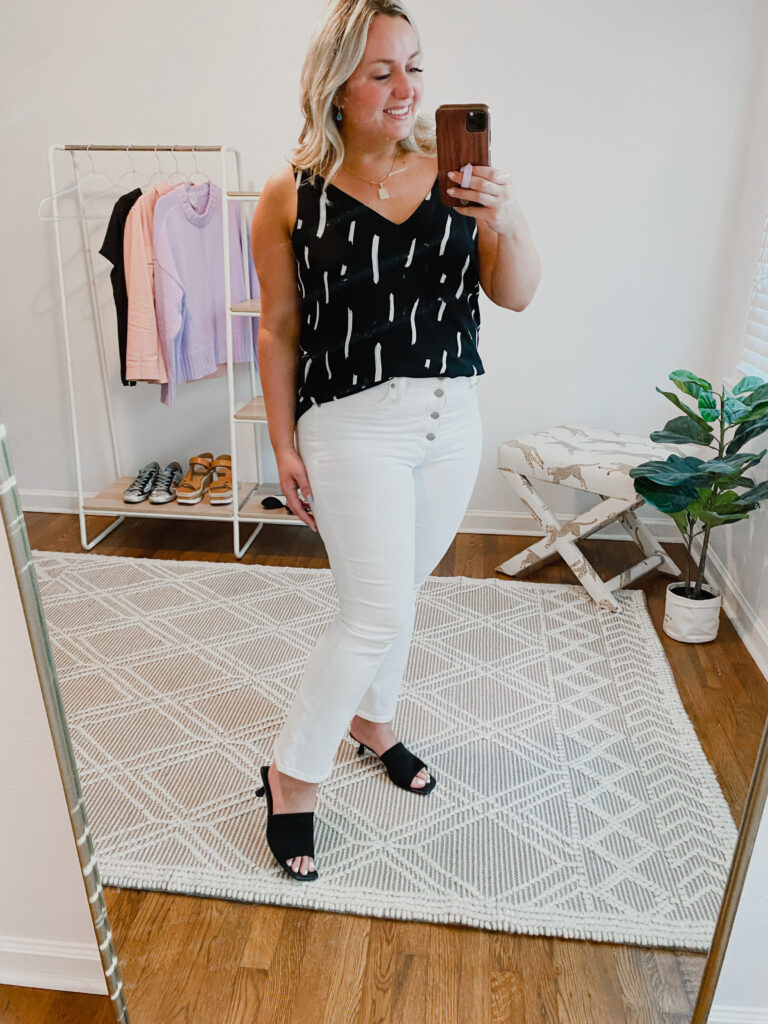 First, let's talk about the fit! For reference, I am wearing a size 31. The stretch is really great and they have a nice high-rise! I love the button fly detail and the thickness of the fabric is perfect! This kick flare hugs the curve as well and 100% curvy girl approved!
Most importantly, these jeans are not see-through at all. I Feel like the thickness is just right – you don't see any dimpling or anything that would make you feel uneasy about wearing white. They can be dressed up or dressed down!
Finally, with all that being said, I am going to show you four ways to style these jeans
---
No. 1 – Lavender Sweater + White Denim Jeans
I know it is still chilly in some parts of the country and I think this is perfect for that chilly spring day. I love this lavender sweater from Target. It is 100% cotton and $20!!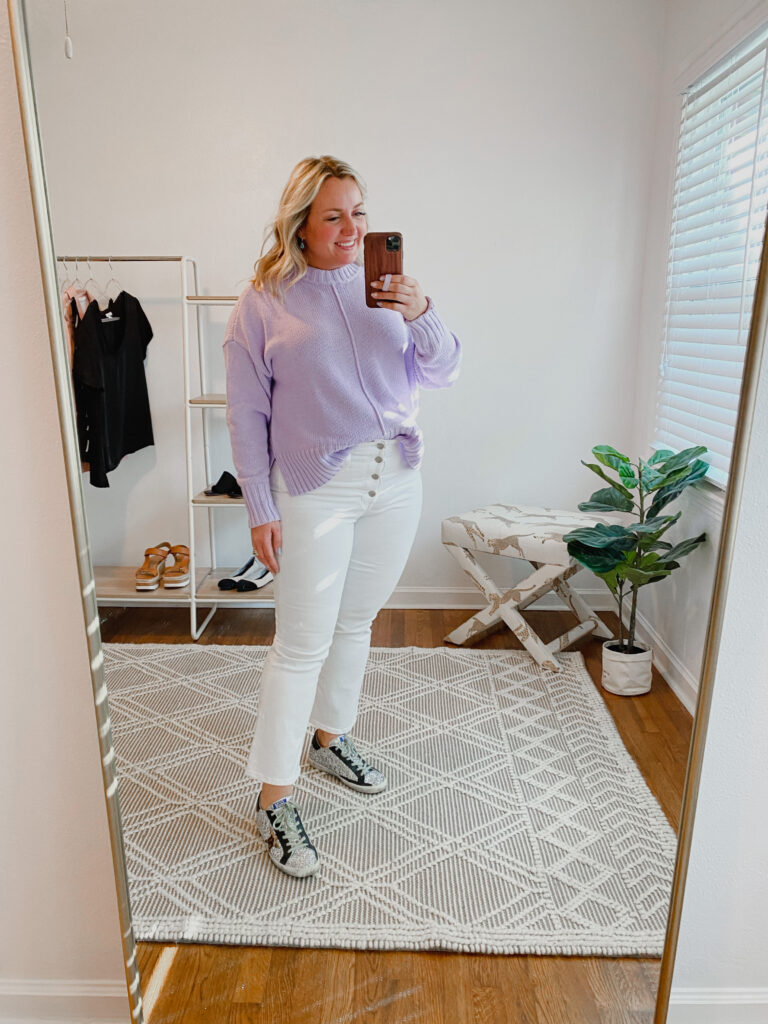 I am wearing a size Medium and I would say it runs a little big, so you may want to size down. You can add a front tuck and a sparkly sneaker. This is a very easy, ready-to-run out-the-door look.
---
No. 2 – WHITE COLUMN + SHACKET
I love this all-white column look, it is so flattering! A white tee with a front tuck, paired with the white jeans, and then I added a blush-colored shacket. I can't say enough about the shacket! This is the one you guys really loved from Walmart. It's only $30 and has the Madewell vibes!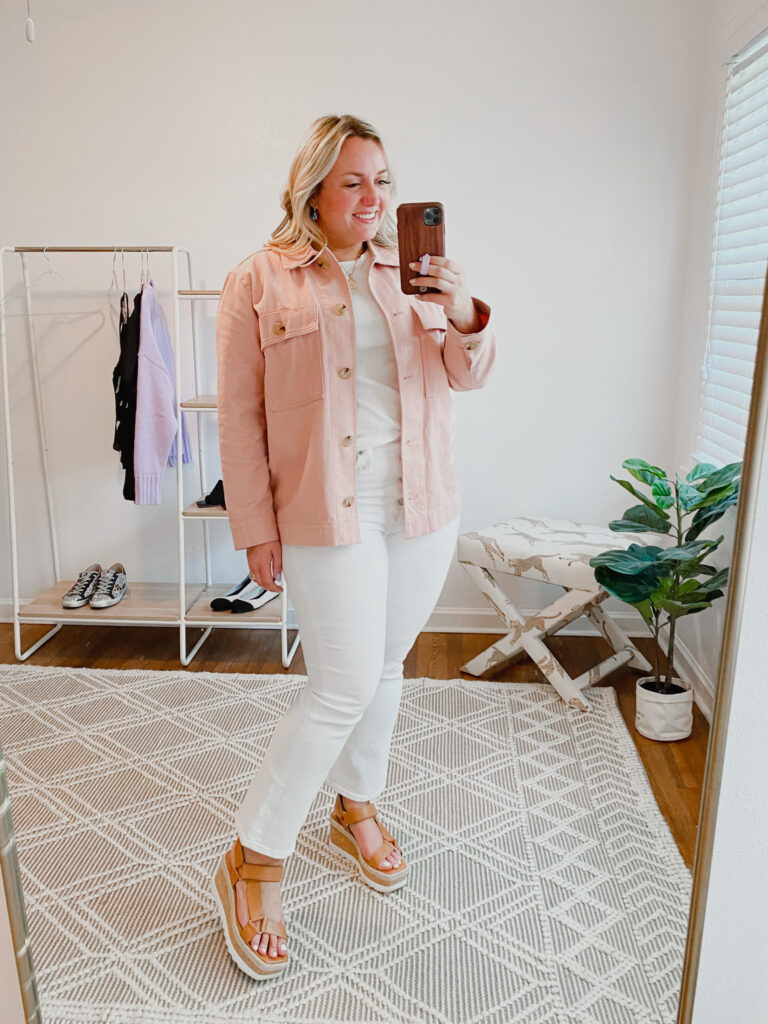 Last but not least, these Mark Fisher Camel Wedge. SWOOOOOON! These are definitely one of my favorite pairs of shoes this year and I love the white bottom with this outfit, it ties the look together perfectly.
This is just such a killer look and so easy to recreate. Another option, you could change it up by keeping the white look underneath and just add a jean jacket or a cardigan. You could rock this all year!

---
No. 3 – V-NECK CAMI + WHITE DENIM JEANS + HEELS
This look can take you straight to drinks or a date night or a girl's night out. Keeping with the same jeans, I have now paired them with a great black Brushstrok V-Neck Cami from Loft. I think the white brush strokes on the cami compliments the white jeans perfectly.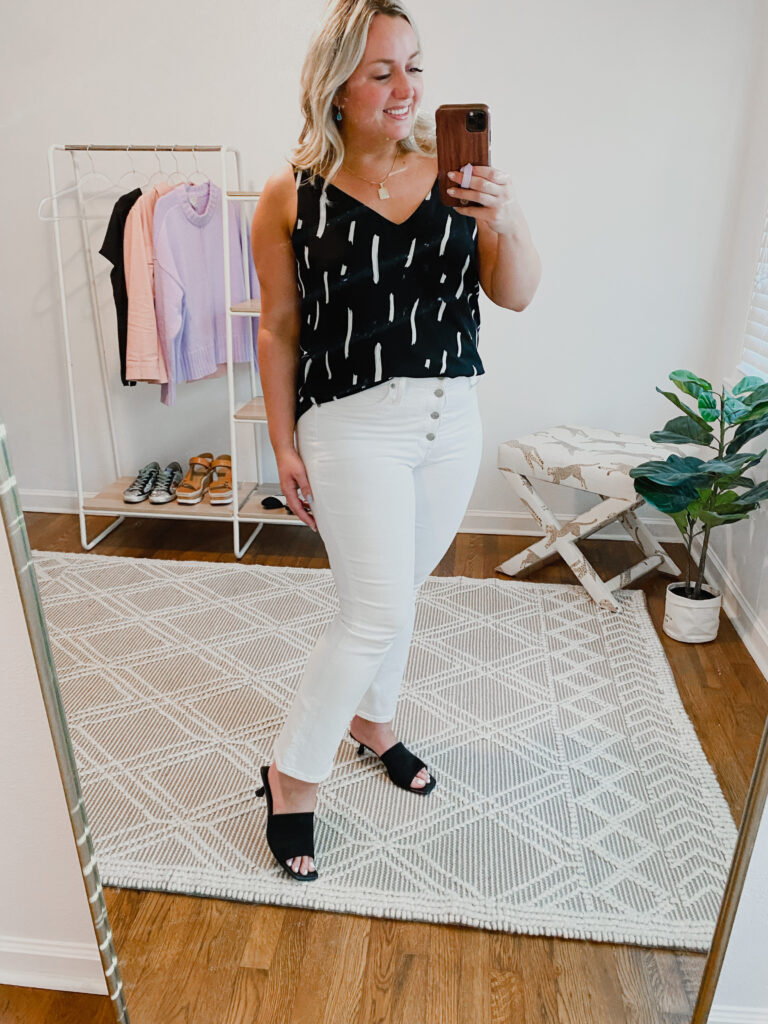 I have on these amazing Vince Camuto square toe heels. They just slip right on and are very comfortable and have a shorter heel. I'm wearing a size large in the cami and 31 jean.
Another Look with the black V-Neck cami from Loft:
---
No. 4 – BLACK SHIRT + WHITE DENIM + ROTHY FLAT
Need a WFH or Casual Friday look? Here you go! The same J. Crew jeans paired with this beautiful satin v-neck top from one of my favorite new brands, Sedge.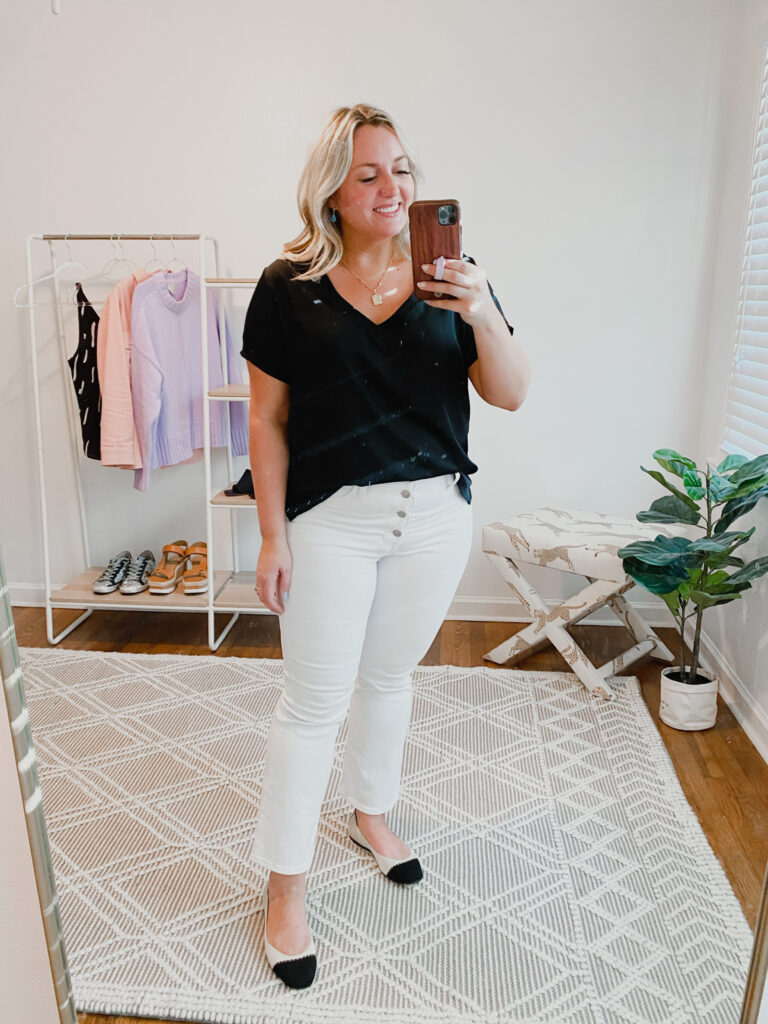 This top is made in the USA, travel-friendly, wrinkle-free, and feels sexy, but comfortable. You can throw a blazer over it to dress it up a bit. I added the new Rothy Square Toe, (Chanel dupe) shoe. I know you girls love your Rothy's!! if you're looking for a super comfortable work shoe, this is it and I just love this look!
Tip: Rothy's tend to run a bit small, so I recommend, going up a ½ size.
I hope these looks gave you inspiration and ways to even use items you currently have to recreate these looks! If you try any of these looks or add these amazing jeans to your collection, please tag me and share how you style them!
Other Posts you Might Like: Spring Dresses