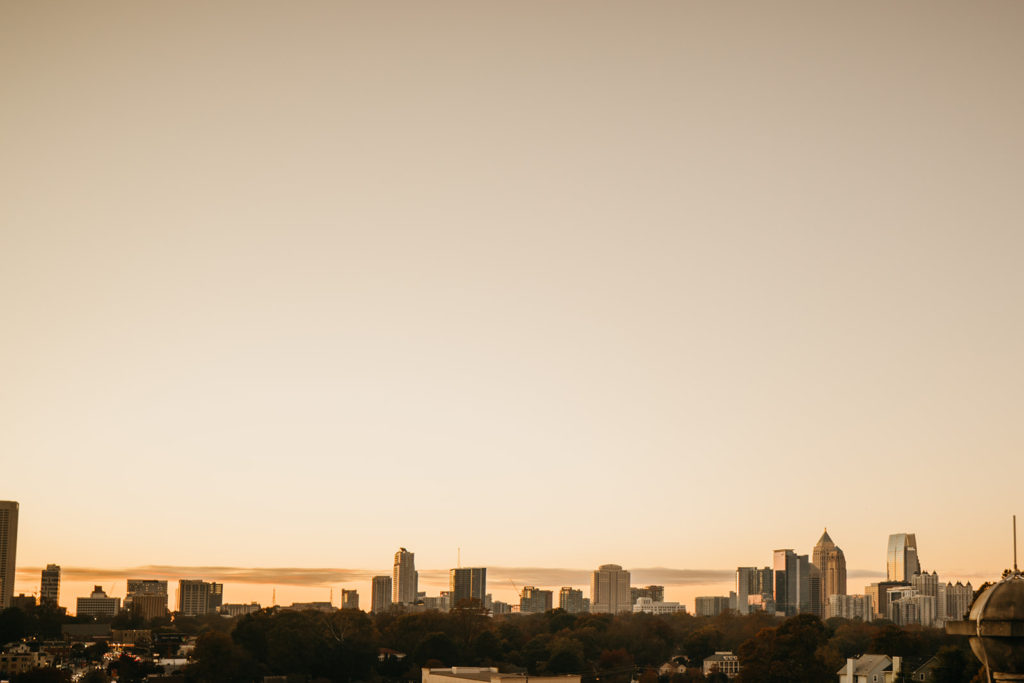 The holidays are in full swing and you know what that means . . . FAMILY & FRIENDS visiting every weekend through the end of the year who are off work with lots of time to kill. The first question they ask you "What do you have planned for us?" You think to yourself wow I live here and I have no idea what we should do. This problem has plagued me more than once.
With an already busy schedule, finding the time to plan an eventful and memorable weekend is just impossible at times. After many not-so-great site-seeing trips to Atlanta for my own friends and family, I sat down and planned out the ultimate 48 hours in Atlanta. Packed with Instagram-worthy picture moments, famous landmarks, and of course the best restaurants.
With my ATL guide in the works, it was perfect timing for my cousin to come and visit me to "test out" my perfect Atlanta itinerary. Upping the excitement for the weekend Toyota invited me to try out the 2020 Toyota Camry XSE V6 for the weekend. I gladly took on the challenge. This girl on the go needs a cool, yet functional, car to get me and my pup, Clover, around the city with ease and safety. I have had an SUV for so long I was nervous about driving a sedan around the city but this car had all the bells and whistles. With a V6 engine, I could felt powerful on the highways. Now let me tell you where this Camry took us in style for the weekend.
Day 1 :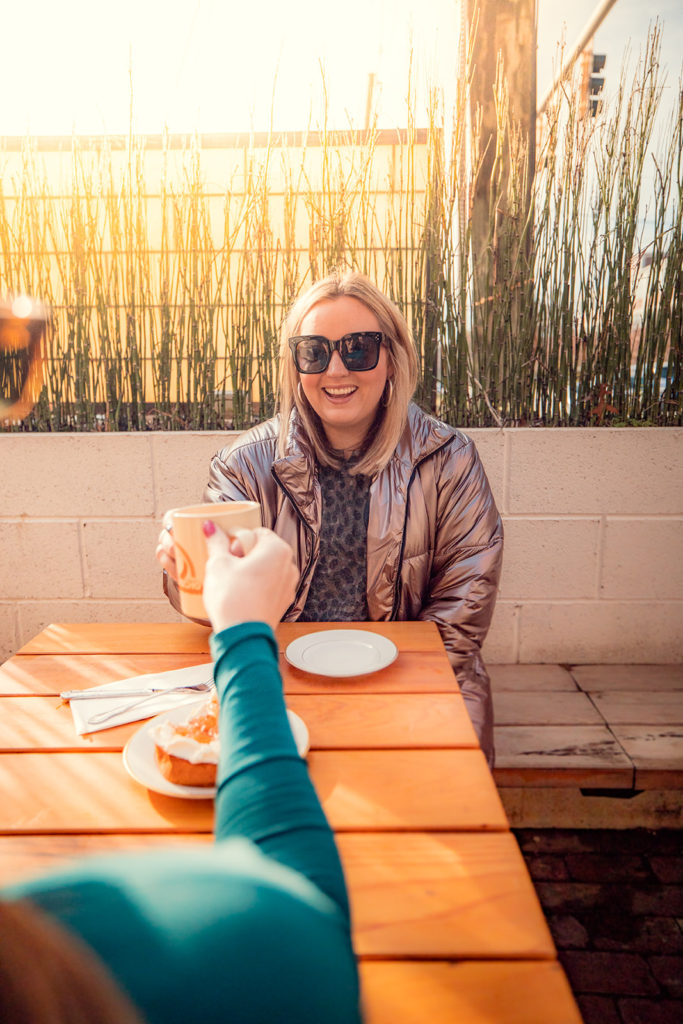 But first . . . COFFEE. On the weekends I love to start my day at one of my favorite spots Muchacho, for their famous toast and coffee. With a dog-friendly patio and the yummiest picture-worthy food and drinks, it was a no-brainer to fuel up before heading to Stone Mountain for the day.
Just plug in your phone and enjoy Apple CarPlay. It's the greatest for using all your favorite apps played through your car. Hands-free navigation check, favorite music station check, voice text messaging check.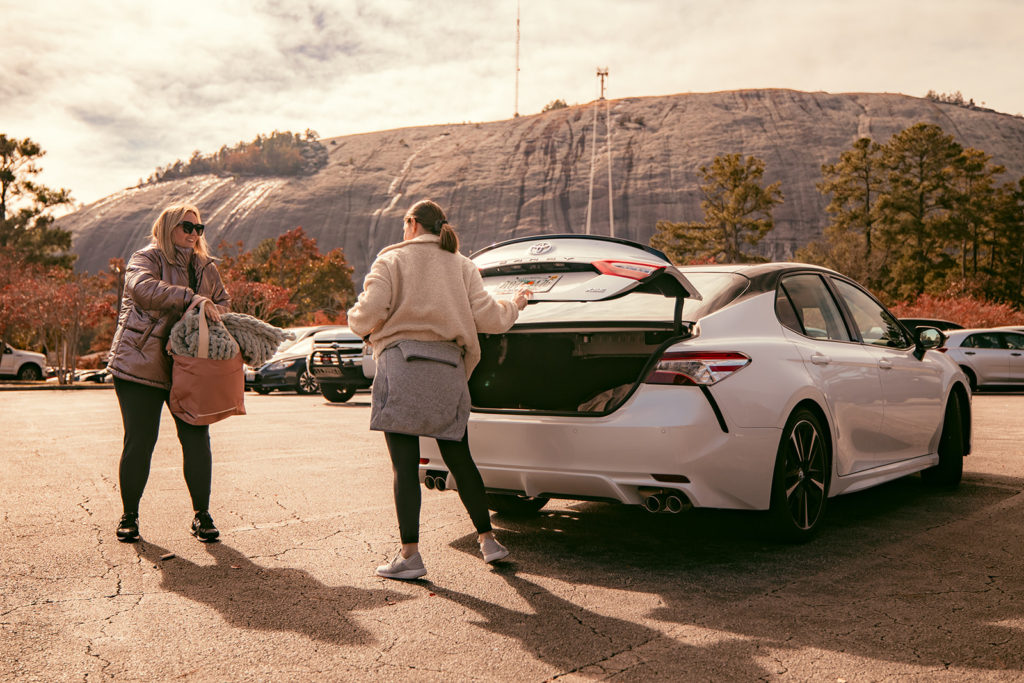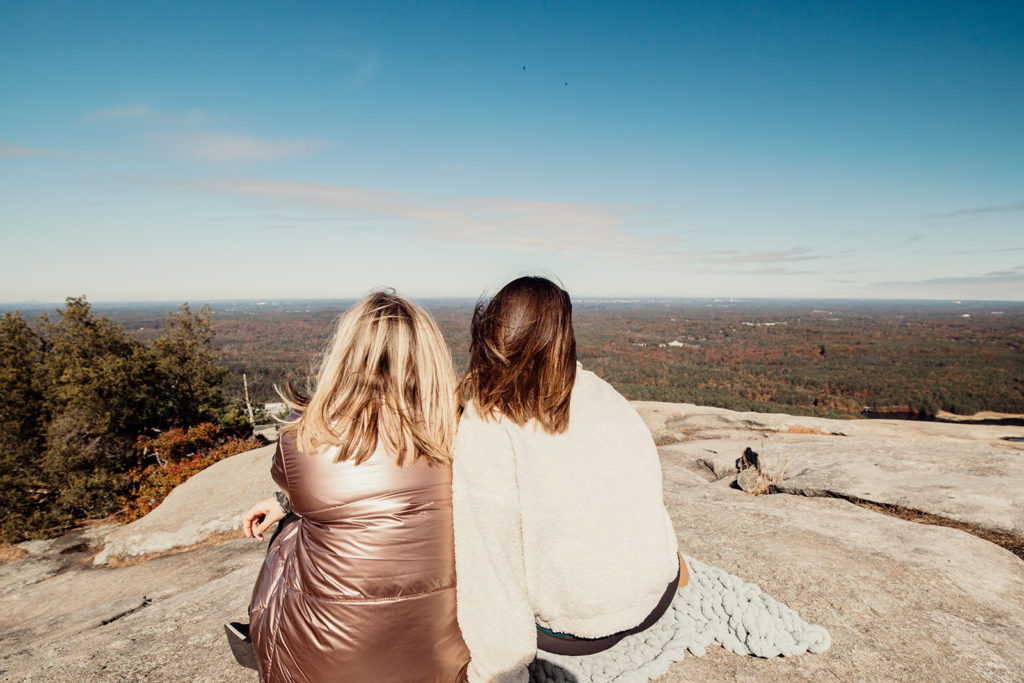 If you haven't been to Stone Mountain it's a must. I actually hadn't been until now and I thought to myself "wow I have been missing out". We took the tram up to the top. I showed Kappie all three skylines that makeup Atlanta. It was the perfect day to take in the view. Of course, we got all the fun pictures too. Stone Mountain has so much to do from hiking, playing in the snow, and a tram to take you up to the top of the mountain. I promise when you take your friends and family to Stone Mountain they will be talking about it for days.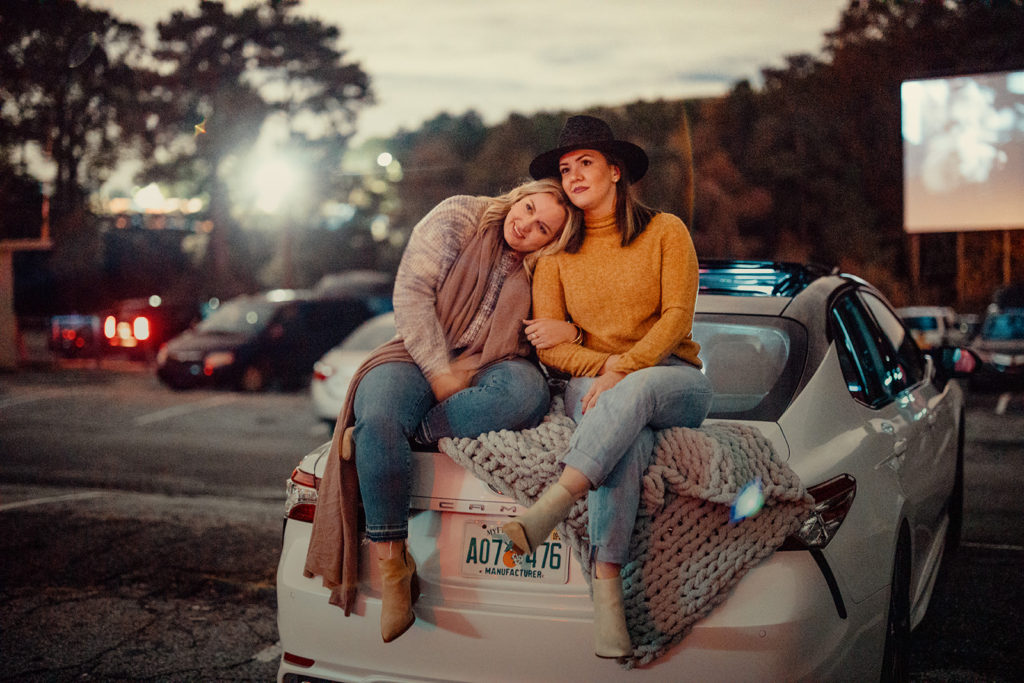 Another fun landmark in Atlanta is the Starlight Drive-In Theater. There are two showings of 4 movies every night. You bring your own drinks, snacks, and chairs. You pay per person and tune into the radio station the movie is playing on. It is a fun experience and beautiful at night. After a movie you can't pass up a late-night waffle at the original waffle spot started in Atlanta. There is a location on every corner and they are open 24/7. Ending the day with breakfast is always a good idea.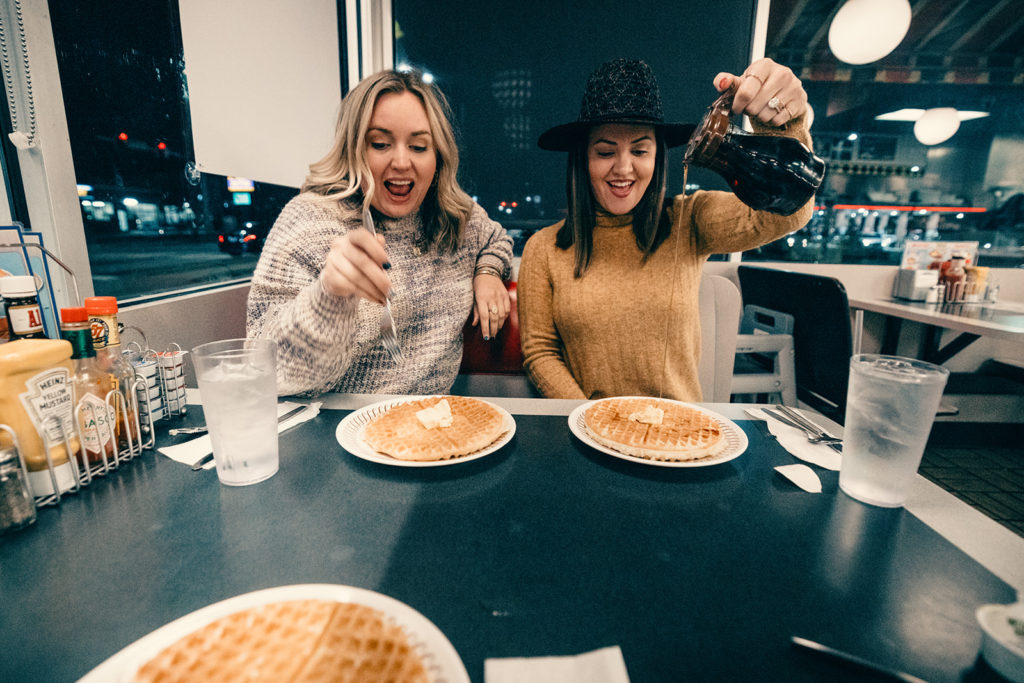 Day 2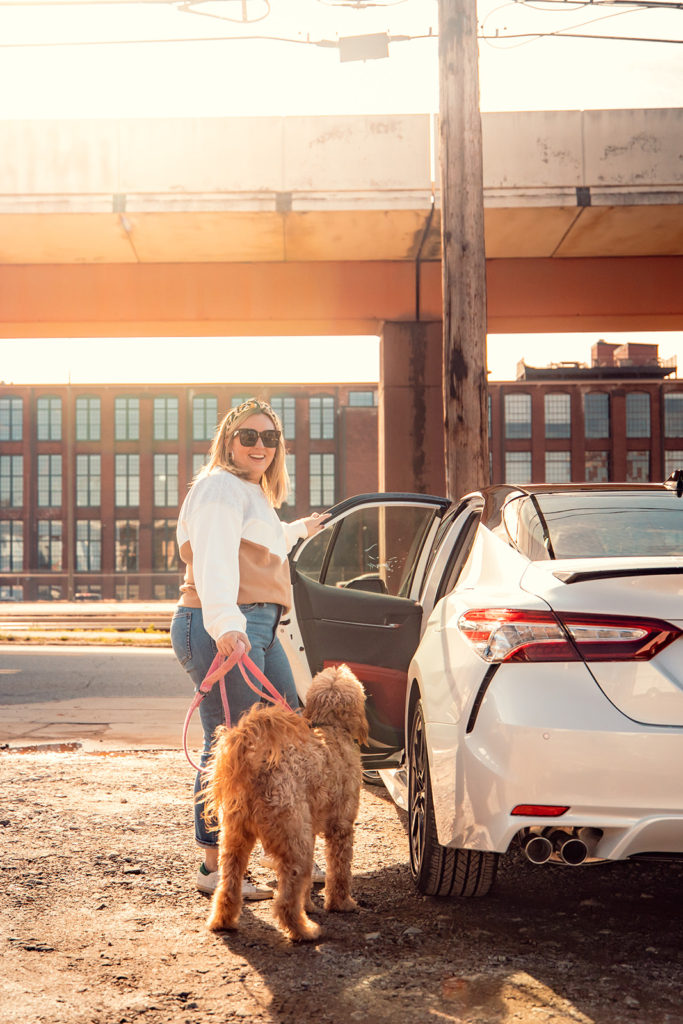 My pup is a huge part of my life. We start a lot of our days going to the dog park so Clover can run and fetch balls. The inside of the Camry has plenty of room for Clover to sit and enjoy the ride to her favorite part of town. I also love the 360 Bird's Eye View Camera with Perimeter Scan, overhead 360-degree view in Drive and Reverse, and curb view. Can we say wow? With this feature, no pup is ever left behind.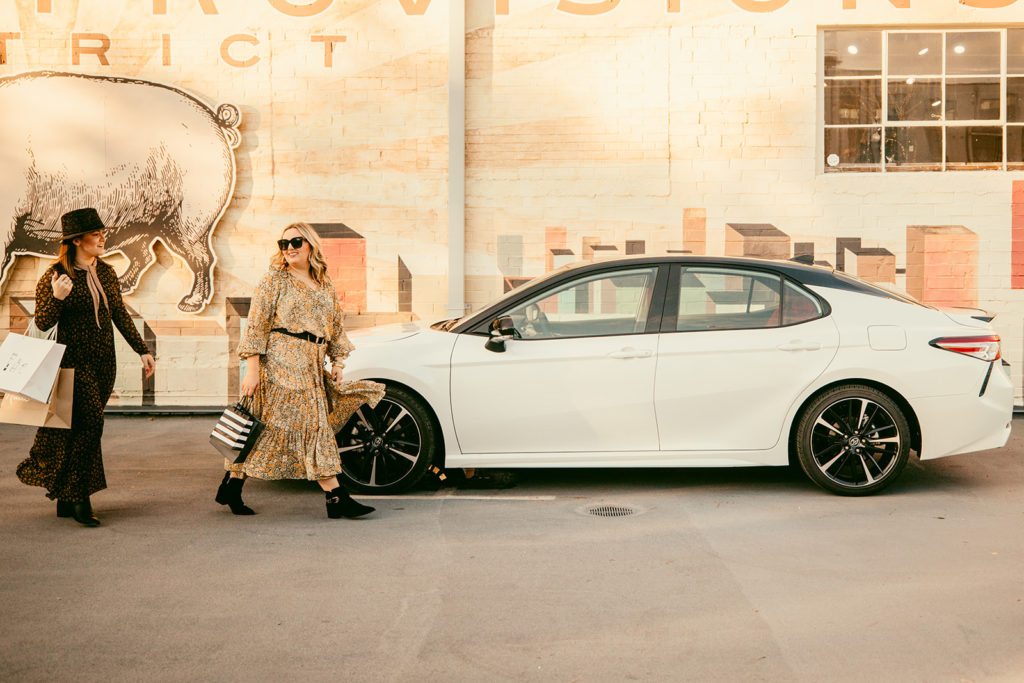 When you are planning to have your girlfriends or family come this time of year going shopping is a must. There are so many great areas to shop that don't feel like a mall. West Side Provisions has great stores for men and women with lots of lunch and dinner options with a beautiful view of the city. A few other outdoor shopping experiences in Atlanta are Ponce City Market and Krog Street Market. I always enjoy taking people to places with artisan products and a local flare, makes it more personal.
We stopped to fuel up with a great lunch at Little Star Provisions. Their Korean BBQ sandwich is to die for. After lunch, back to shopping for us. Thankfully the Camry has the best reputation when it comes to trunk space. We had no problem fitting all our bags in the back. Even with the sporty look of the 2020 Camry, the trunk still stands up to its reputation.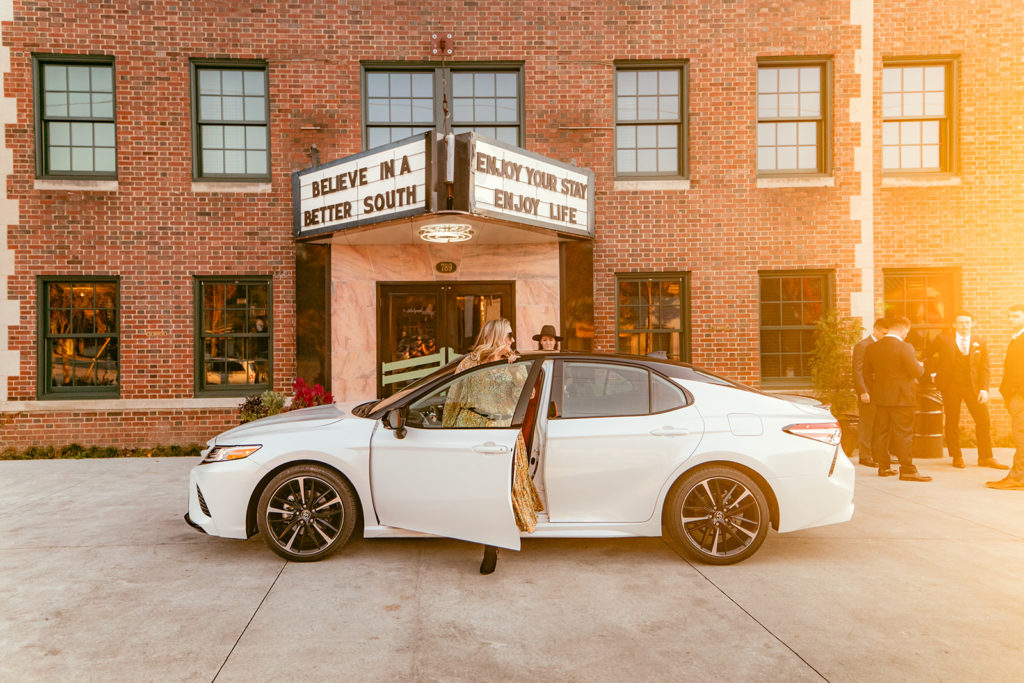 Pull up to the Hotel Clermont to catch the sunset from the rooftop will wow your guest. It's something that is free and there isn't a bad seat in the house. I love visiting this once abandoned hotel that has had the ultimate facelift. This Atlanta landmark is the perfect spot to grab dinner, visit with friends and family, and of course take in the beautiful views of Atlanta.
Thankfully when you go to Hotel Clermont it's a one-stop kind of place because after the sunset you can make your way downstairs and dine at one of Atlanta's newest restaurants. Tiny Lou's is a great spot with great ambiance, food, and the service is amazing. If you love going back in time to the 60s/70s this is the spot for you.
Wow, what a jam-packed weekend with an amazing ride to get us all over town safely and in style. The Camry was once a part of my life, I grew up being driven to school in a Toyota Camry. Having the opportunity to experience, years later, what the Camry is made of and how it can be a part of my life again was such a fun adventure even if it was just 48 hours in Atlanta.
I want to be completely honest with you all . . . I had a hard time giving this car back to the dealership. It has a smooth ride with practicality and luxury merged into one spacious sedan. Between the moonroof, Apple CarPlay, and a wireless charging station you are set up for complete success wherever you need the Camry to take you. I now understand why Camry is "There For Life". Peace up ATown.
Here is a highlight reel of my weekend: 48 hours in Atlanta.
Thank you Southeast Toyota for sponsoring this weekend. We packed it in and had the best time exploring Atlanta. Mission accomplished and please find my Atlanta weekend itinerary below. See more pictures and my personal experience with Camry on Instagram.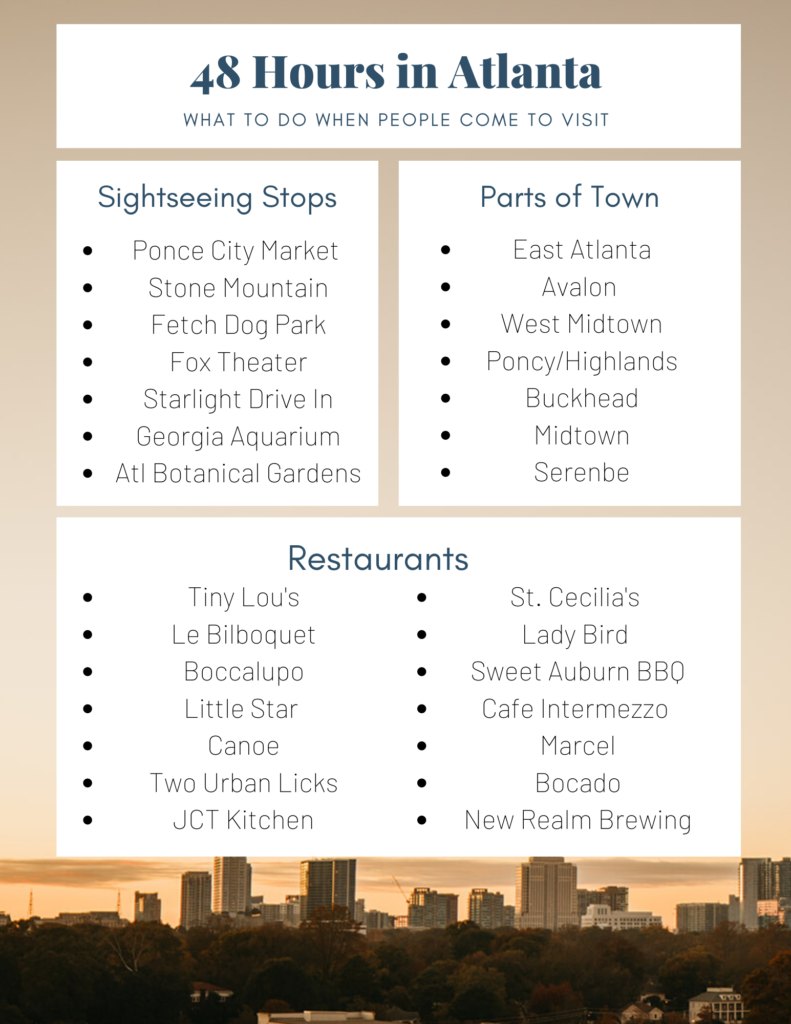 Photography and Videography by Jason Holland Photography 

Other Posts You May Like:
20+ Fall Outfits | What to Wear Fall