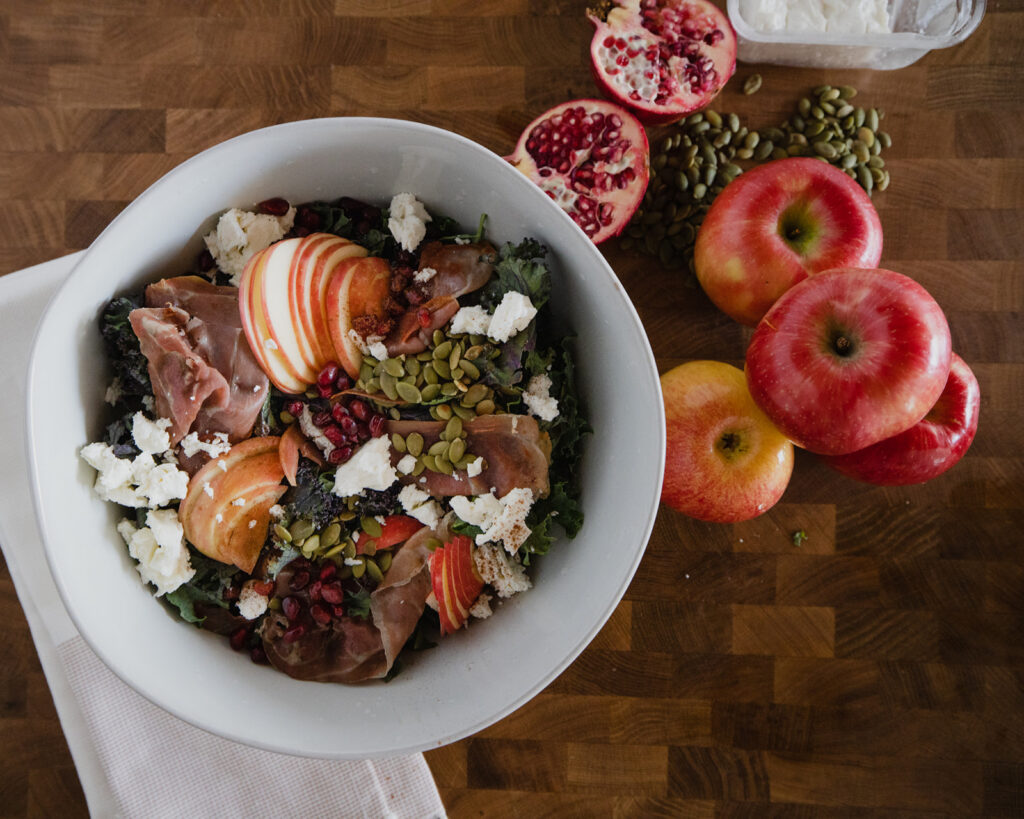 One of the most human connections we can offer is through food. Nourishing someone with a tasty meal can fill more than the tummy, but the heart as well. This year has brought us a hard situation. But with every hardship, I try to find the silver lining. Mine was getting back into the kitchen more and cooking for my loved ones.
Being inspired by beautiful ingredients and a simple recipe can get you cooking foods you never thought you could. Let's dust off the pan and your cutting board and get to cooking a wonderful and exciting new salad for yourself, your family, and friends. This is an incredibly doable recipe with the most limited cooking experience.
Join me in cooking a fall harvest salad that you can share with a loved one, a friend, or your family.
Being a foodie, I love cooking with seasonal ingredients. A fan favorite this time of year is the apple. They are so perfectly crisp and sweet. These beautiful ingredients will make a beautiful and flavorful harvest salad you can serve as a main entree or as a side for a bigger dinner, like Thanksgiving.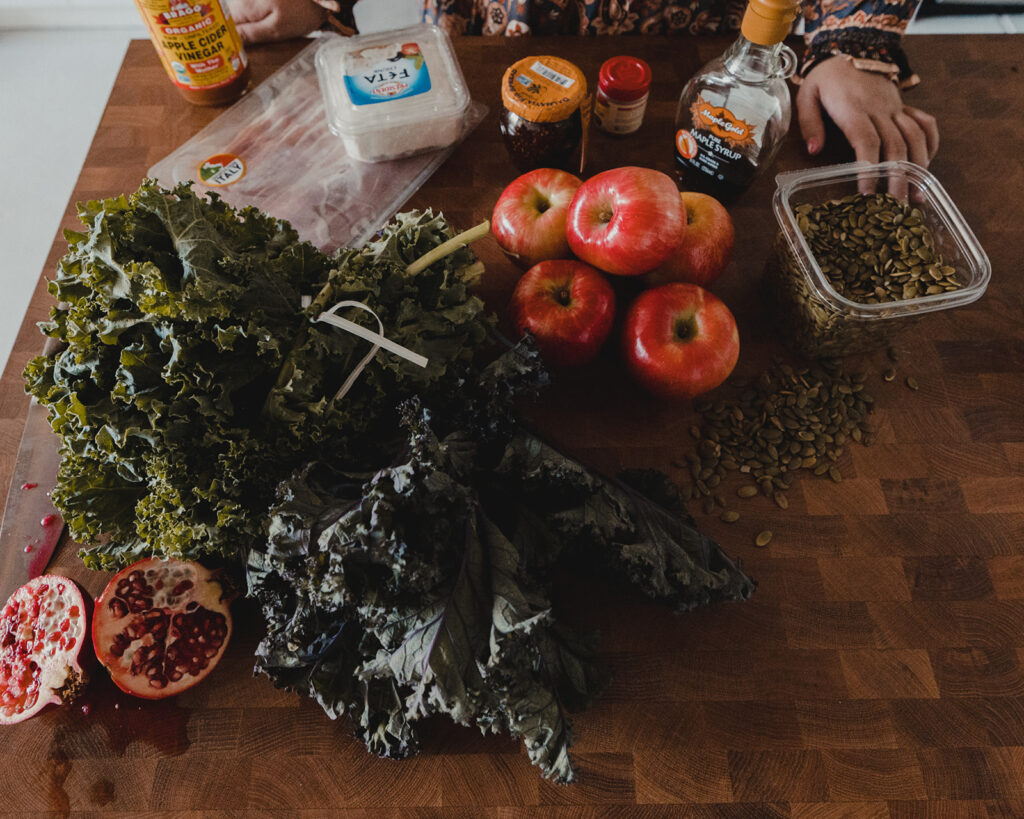 Working with kale can seem intimidating but it's actually very simple. Rinse the greens in cold water. Pat down with paper towels. When ready to add to the bowl grab by the thickest part of the stem and pull the curly leaf down. You will have beautiful kale lettuce. Discard the steam. You can rip with your hands or chop for smaller bite-size pieces.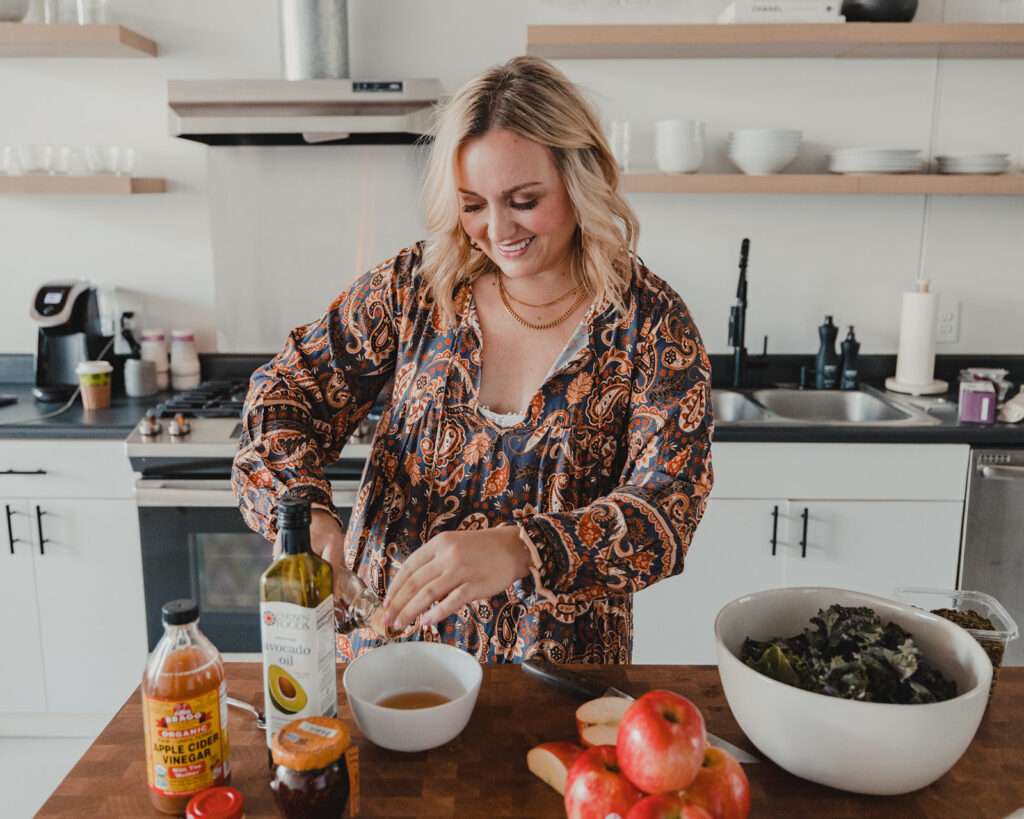 Another very doable way to wow yourself and your dinner guest is to make a homemade vinaigrette for your salad. You will be surprised you probably have a lot of these ingredients in your pantry.
Tips to always having ingredients on hand for a homemade vinaigrette.
A good olive or avocado oil
Acid: vinegar or citrus juice
Sweet: maple syrup, honey, apple juice
Salt
Aromatics: onion, shallot, herbs
It's just that simple and you have a better than a restaurant, homemade vinaigrette. I never buy salad dressing anymore. Challenge yourself to make an easy homemade dressing for a quarter of the price. Remember practice makes perfect and before you know it you won't need a recipe and will be creating flavorful recipes on your own.
Another way to wow your lunch guest is to work on your cutting skills. Having a beautifully cut apple into perfect slices makes for easy to eat and a beautiful presentation.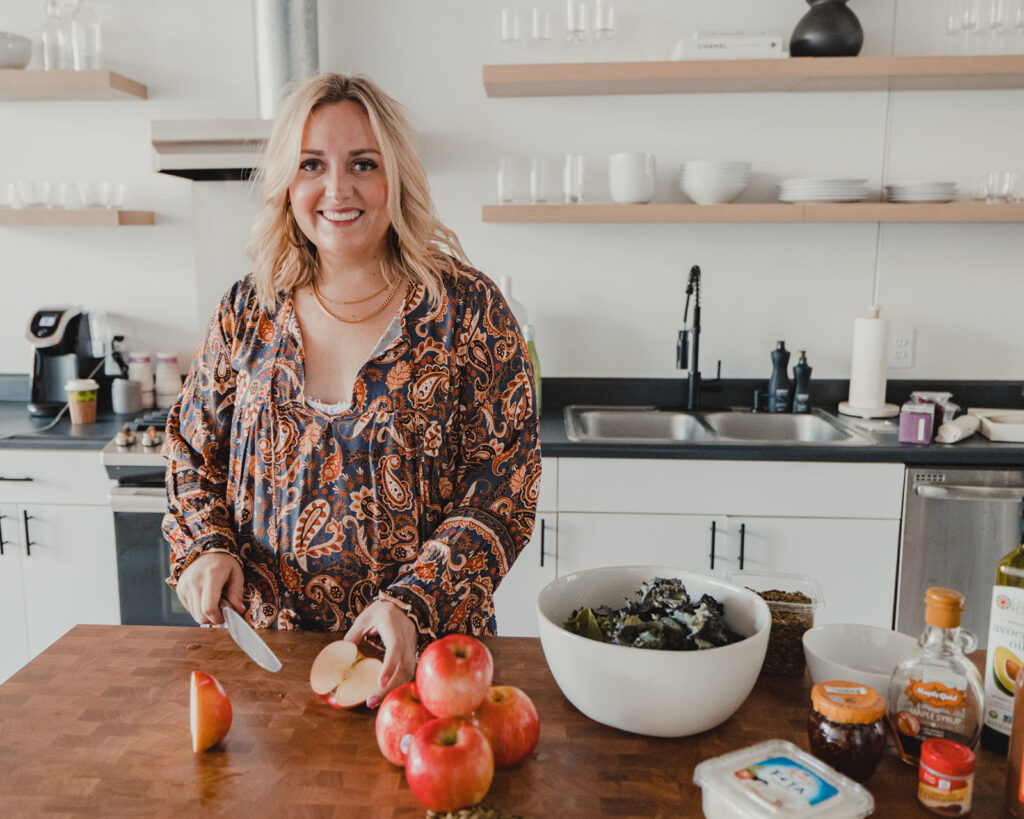 When you put this salad together put your homemade dressing on the kale base first then add your toppings. I put mine in a triangle format to make serving easier and to make sure each person will get equal amounts of toppings.
Finishing touch, add a sprinkle of cinnamon for a full fall moment for your mouth.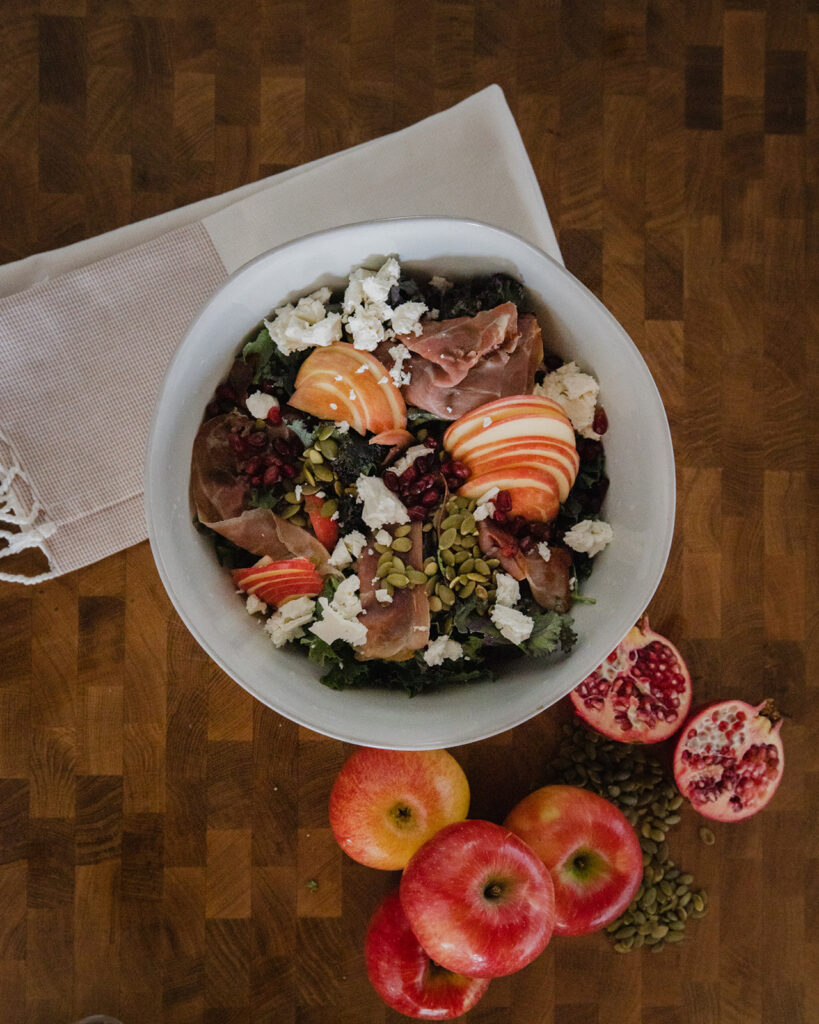 Now you have your beautiful harvest salad assembled and ready to serve. This filling salad can be a stand-alone with grilled chicken or turkey bacon or a side salad with no protein. You can also make it vegan friendly, like I did, by using plant-based prosciutto.
Thank you for letting me share one of my favorite things to do, cook for someone. Hoping this very doable but flavorful salad inspires you to try new foods, who knew there was plant-based prosciutto, and cook a meal for someone who needs that connection right now. If you need to be socially distanced, don't forget you can always drop it off to a friend who is in need of a kind gesture.
Being a trained chef a question I am always asked why did you become a chef? The answer is easy, I wanted to give people life with my cooking. It was a way to give back to my community, something I would always have the ability to share with my loved ones and strangers. Cooking is a gift we can all give ourselves and others.
You are an incredible human and can do incredibly doable things you never thought possible.
Thank you Advent Health for the opportunity to share my favorite thing, cooking, with everyone. This post is sponsored but all thoughts and opinions are all my own.
Make sure you visit https://www.humansareincredible.com to see what your doable action is and sign up for a Friend Check Friday reminder that can be added to your calendar.