Thanksgiving is almost here and that means it is the perfect excuse to dress up for something! In need of cute Thanksgiving outfit inspiration, I've got you covered! It might be a Zoom dinner with your family but getting yourself a new dress or outfit is just what the turkey ordered.
Here are nine outfit ideas – Curvy Girl Approved for Thanksgiving!
1. PAISLEY MIDI DRESS + HEELED RIDING BOOTS
Dress use code SELLEATLOVE20 for 20% off / Boots
2. JEANS + TANK + JACKET+ BOOTIES
For some, a casual look is perfect for your family traditions. You can cook in this, go outside for a walk, or swap out for sneakers to play a little flag football.
Jacket / Jeans / Tank / Booties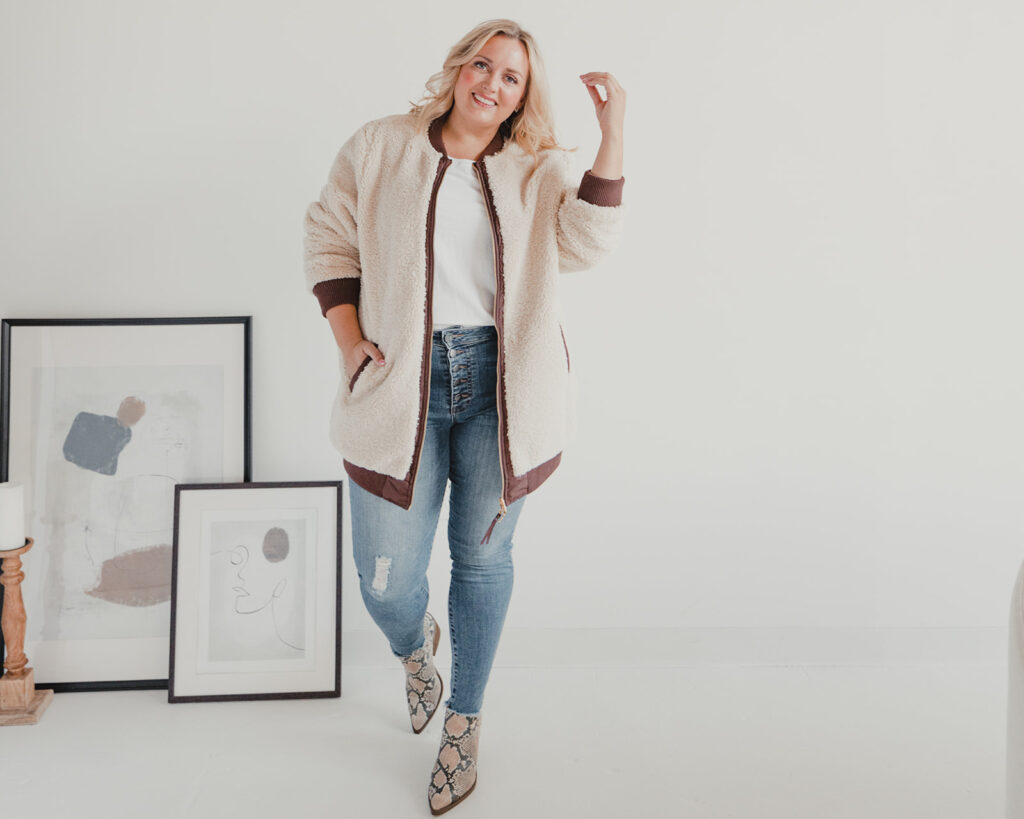 3. BALLOON SLEEVE + SLIP SKIRT + BELT
Feeling a little fancy? This look is perfect for a Thanksgiving dinner out. Some families forgo cooking to enjoy the decor and ambiance of a local restaurant or hotel to celebrate Turkey Day.
Top Similar / Skirt / Belt / Bag / Shoes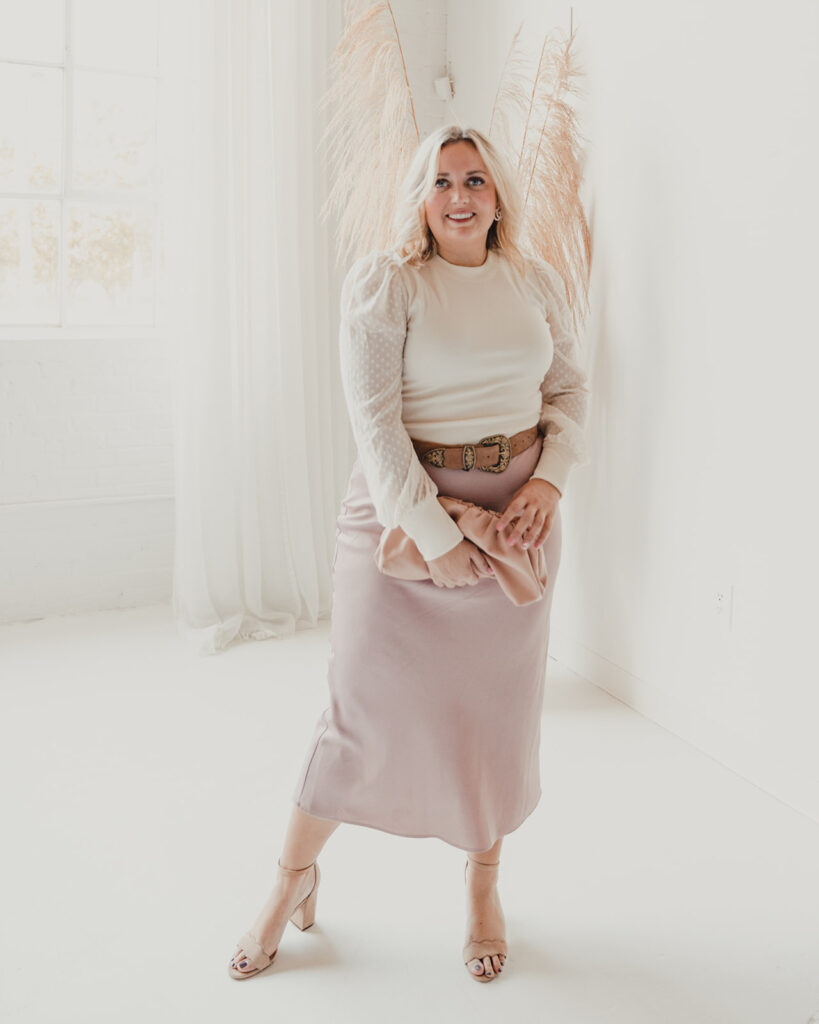 4. CHUNKY SWEATER + JEANS + SNAKE PRINT + HAT
Another Thanksgiving Outfit I love – a chunky sweater! It is the perfect cozy look for your Thanksgiving gathering. I love the pop of color with earrings and a snake print shoe.
Sweater use code SELLEATLOVE20 for 20% off / Jeans / Hat / Earrings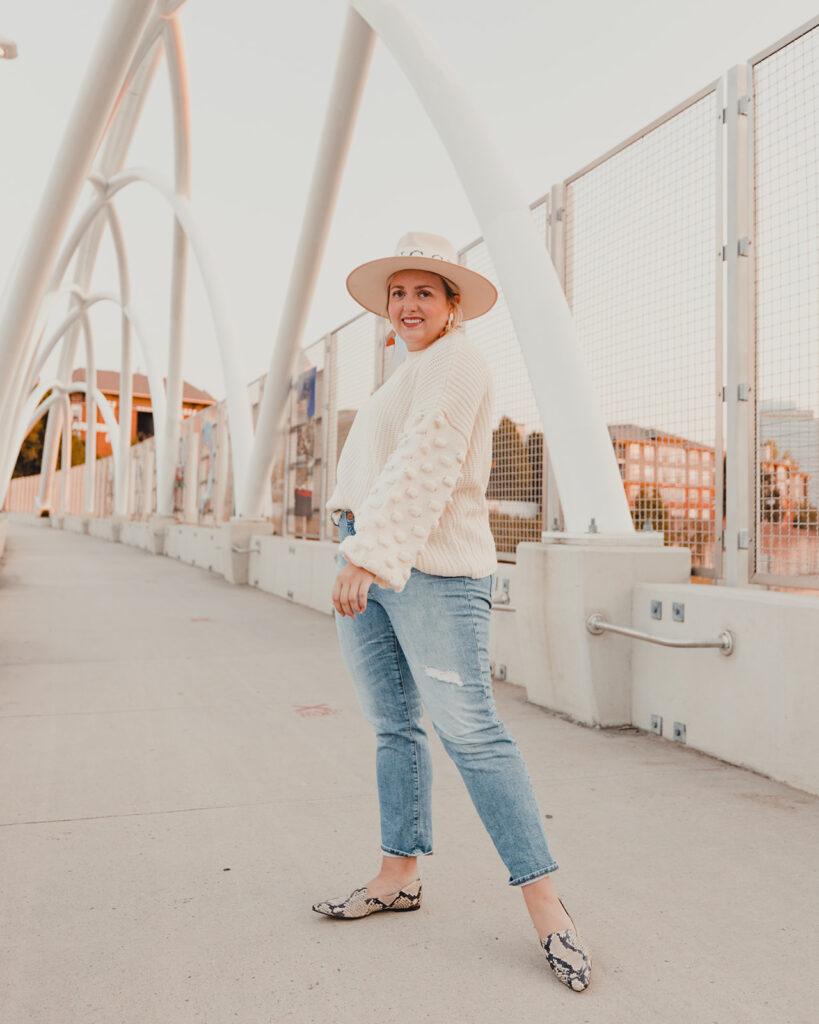 5. PRINTED SATIN DRESS + BOOTIES
You can never go wrong with a fun printed dress that gives you plenty of room for all the turkey, sides, and pumpkin pies.
Dress use code SELLEATLOVE20 for 20% off / Booties Similar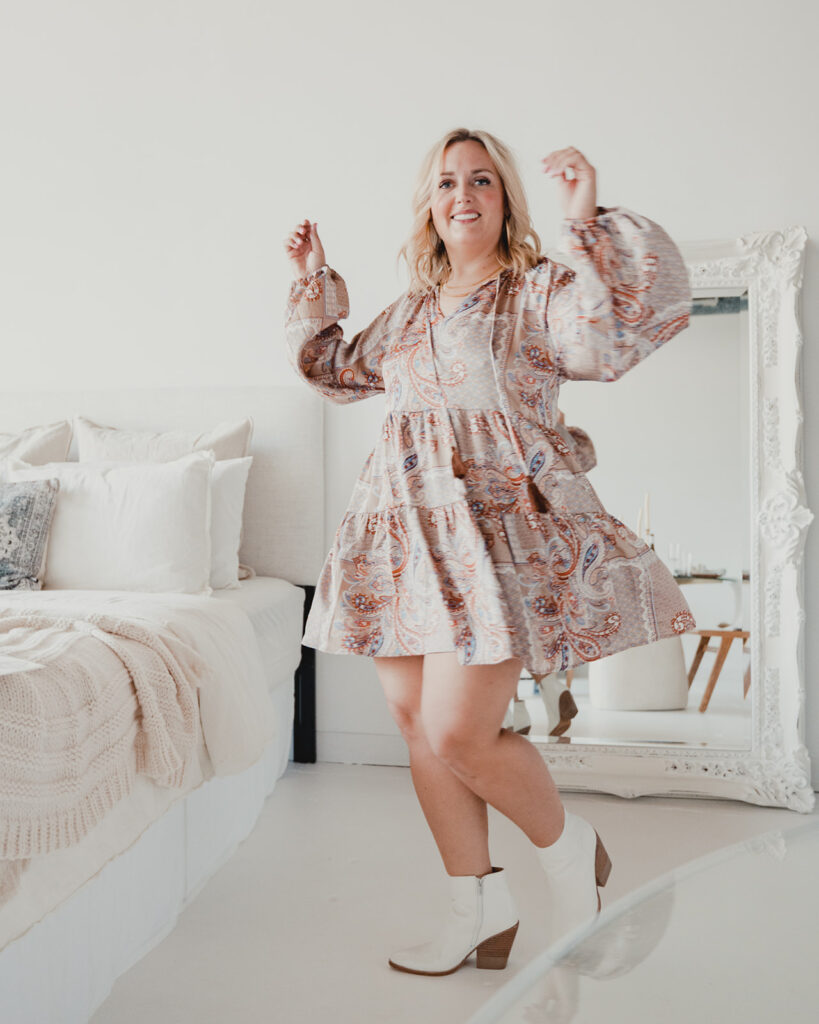 6. FLORAL SMOCKED DRESS + WIDE CALF BOOTS
This chic dress has a beautiful print and is perfect for a more formal, smaller Thanksgiving dinner. It also gives plenty of room for an extra helping of your favorite side.
Dress use code SELLEATLOVE20 for 20% off / Boots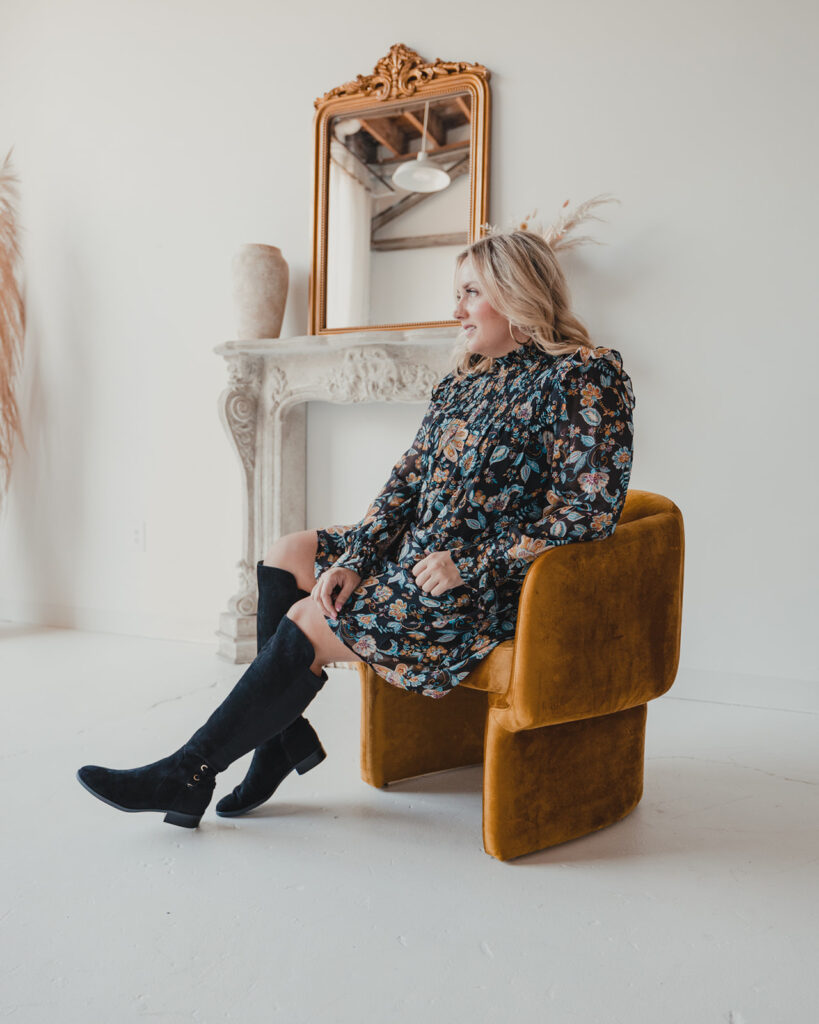 7. PUFF SLEEVE DRESS + BOOTIES
Casual dress perfect for turkey day. This style is very flattering and still comfortable if you eat a little extra this year.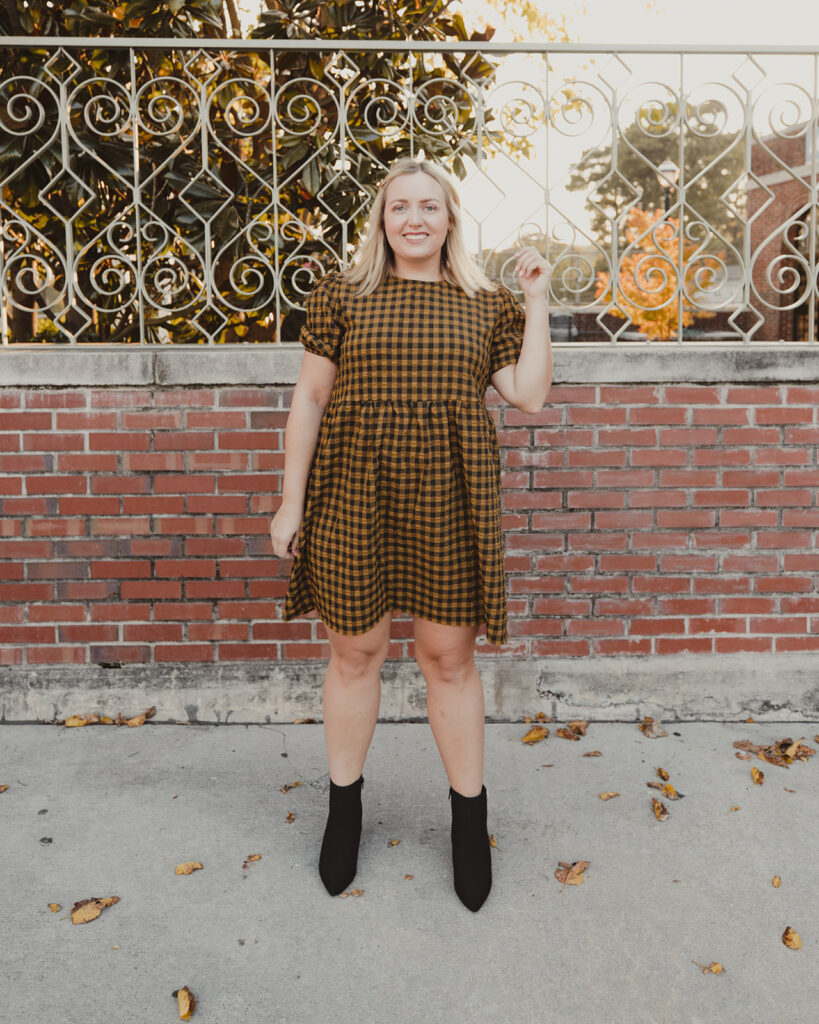 8. TUNIC SWEATER + JEANS + FLATS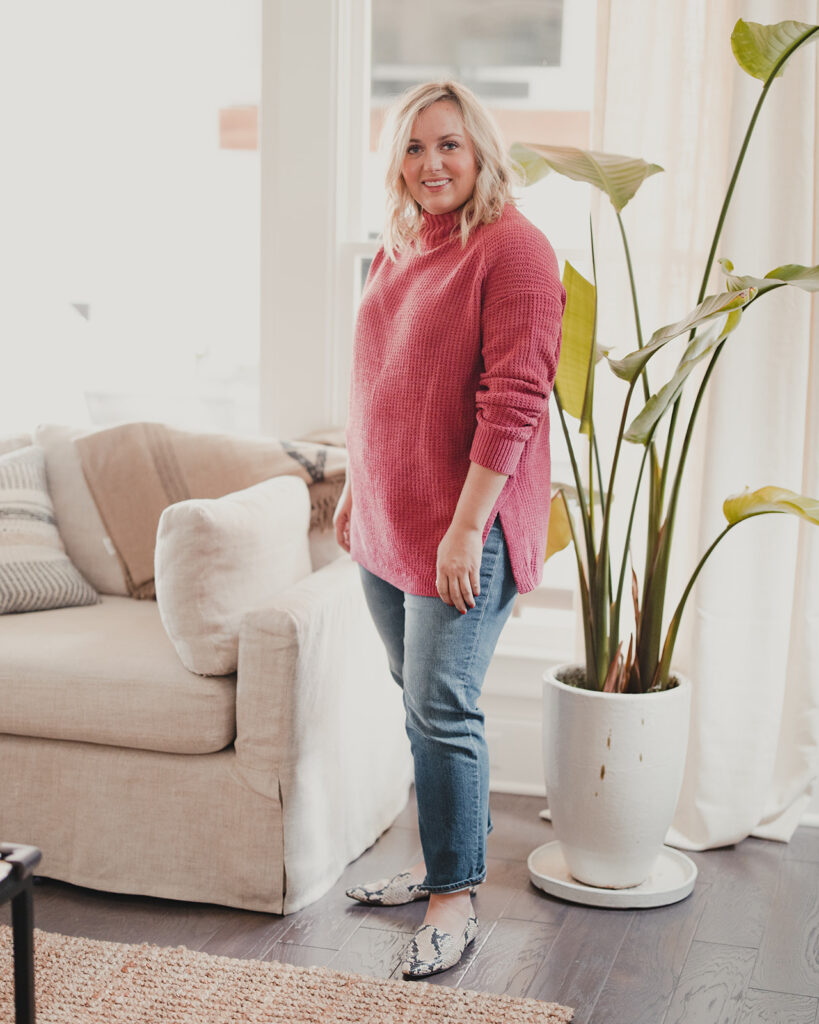 9. LONG SLEEVE FLORAL DRESS + BOOTIES
Saving the best for last, this adorable dress from Target is $35. I love the colors, length and it is so, so comfortable!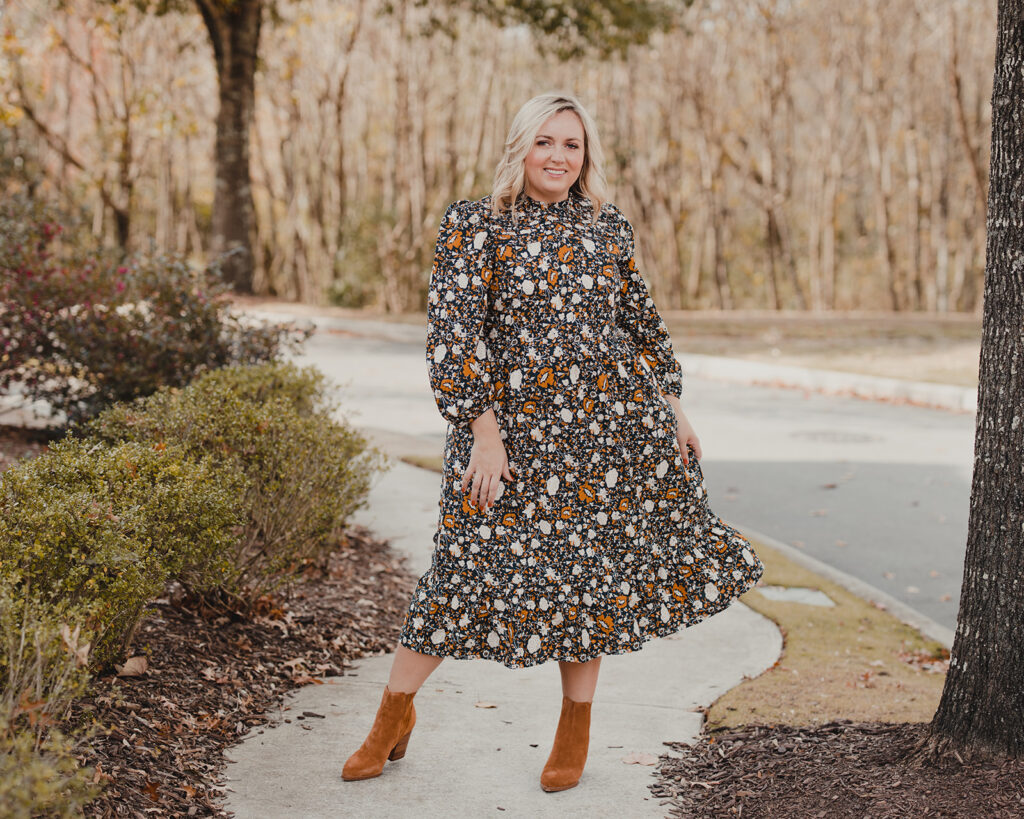 Looking cute is only one part of Thanksgiving. Being together with your friends, family, and loved ones, making memories, and enjoying each other's company is the best part. AND…making sure you have an amazing spread, with everyone's favorites sides is pretty important too – haha. Make sure to check back for favorite Thanksgiving sides.
This year has been hard on everyone. Nothing we expected it to be. One thing we can do is finish strong with warm and joyful holiday celebrations. Make sure you are safe with family and friends this Thanksgiving.
If you need Tablescape ideas – check out 3 Easy Steps to Create a Beautiful Thanksgiving Tablescape!
Photos by : Jason Holland Photo