How many times have you heard, "variety is the spice of life"? Well, this definitely includes bras! One single bra is not the workhorse that carries the load of many (no pun intended). There are so many options for the type of intimate coverage you are looking for. I will delve into the comfort and fit of my favorite lingerie basics, including bras, bralettes, panties, and shorts as well as give suggestions for the most appropriate ways to wear them.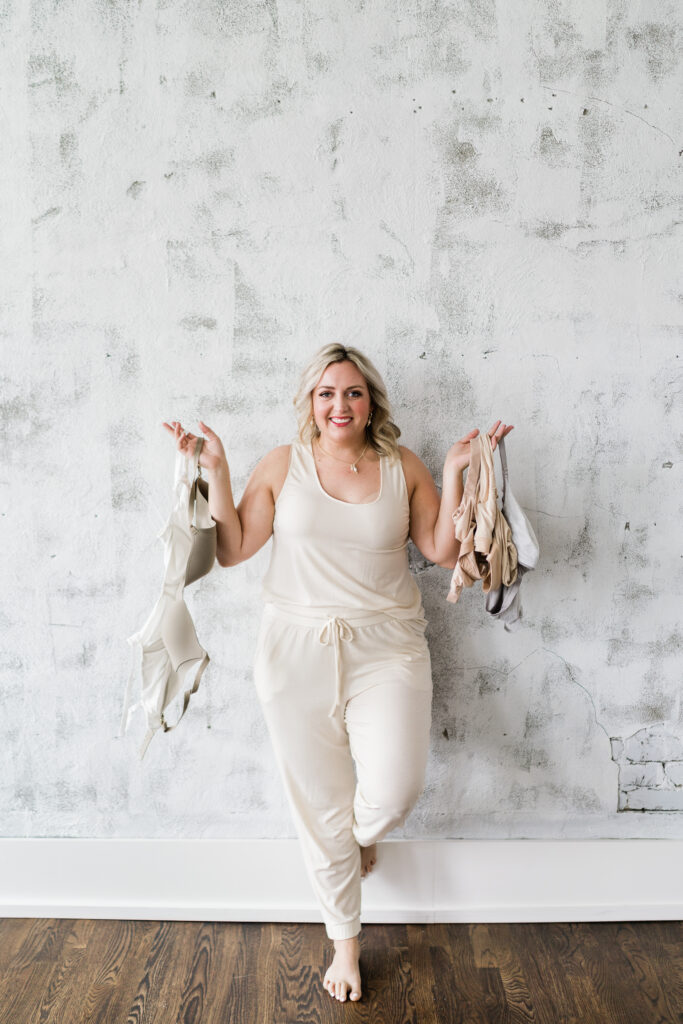 Basically, a bra provides support and coverage, fastens in the back or the front, typically has an adjustable shoulder strap, and may or may not have an underwire. By definition, this sounds very boring and confining but it doesn't have to be uncomfortable.
What Bras Should Every Woman Own?
My favorite bras include the Bra-llelujah Lightly Lined Full Coverage Bra by Spanx, the Women's Icon Full Coverage Lightly Lined Bra-Auden from Target and the Knix Wing Woman Contour Bra. Check out the break down of each below:
The Bra-llelujah Bra by Spanx is literally the perfect T-shirt bra because its super soft material gives an incredibly smooth appearance. This bra is also great when wearing V-neck blouses because it gives your girls support. This bra features an easy front closure and comes in 6 colors. Sizes range from 32-40 and fits cup sizes A-DDD.
The Women's Icon Full Coverage Lightly Lined Bra-Auden from Target is actually the go-to bra for creating cleavage and support. Although the name indicates a T-Shirt Bra, it will make you feel sexy for evenings out while wearing tops or dresses with a plunging neckline. True to the description this bra is lightly lined and the underwire gives a beautiful little push-up.
The Knix Wing Woman Contour Bra is best for sleeveless shirts. The bra was thoughtfully created with extra side coverage that makes you feel secure by eliminating overspill but in a pretty, comfortable way. The bra has a back closure, adjustable straps, and light moldable padding.
Spanx Bra | Target Bra | Knix Bra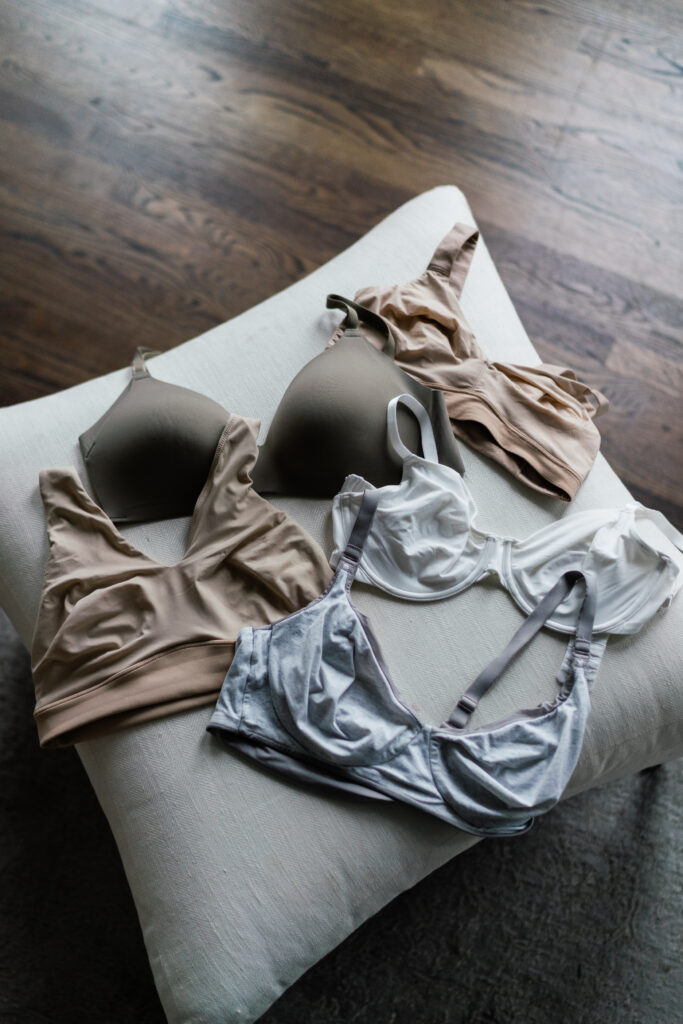 4. The Bralette
The bralette is that little modern undergarment that is light on coverage and support but at the same time is sexy when wearing more revealing tops or dresses and provides comfort when wearing loungewear.
Learn more about my top bralette picks below
Bra-llelujah Unlined Bralette by Spanx: This bralette features a cup/coverage that has a triangular shape which works well for scoop and v-necks. The large and extra-large bralettes have an extra fabric layer; proof that Spanx thinks of everything! The Bra-llelujah also has smart straps and a smoothing back to help you look and feel your best.
The Embraceable Reversible Lounge Bralette by Soma: Can we say winner winner?! This bralette is unlined and has a matte material that reverses to a shiny sheen. There is also a finishing seam detail that appears bra-like while still offering the comfort of a bralette. The Embraceable Reversible Bralette will keep you feeling really pretty underneath when wearing a button-down top or while lounging.
The Harper Wild Bliss Bralette: This self-proclaimed "feels like butter" bralette is wireless but still creates lift and has a substantial contour band at the bottom that will make you feel secure. There is even more good news here as this bralette's sizing runs from small to XXL.
Eby bralette: There is so much to celebrate about the Eby bralette. Design elements include a scoop neck, removable cups, and a mesh back. For those of you who miss being able to adjust your straps, this bra is made for you! Eby also strongly supports breaking the cycle of women in poverty through micro-business loans and their bras are manufactured in an environmentally sound, sweatshop-free way.
Spanx Bralette | Soma Bralette | Harper Wild | EBY
Underwear Top Picks:
1. Spanx thongs and undetectable underwear
Spanx is known for their fabric technology with their leggings, bras, and bralettes. This also applies to their thongs and underwear.
2. Soma cotton and vanishing edge high thigh underwear
Soma's vanishing edge high thing underwear are amazing! The silicon edge lining of the leg opening keeps the panty in place without a panty line.
3. Tommy John Second Skin underwear
Everyone loves the Tommy John pajamas and loungewear. The Tommy John Second Skin underwear in the high leg brief will be your absolute favorites.
Spanx Panties | Spanx Thong | Soma Panties | Tommy John Panties
Shorts:
Spanx thinstincs 2.0
The Spanx Thinstincs shapewear is an everyday lightweight, breathable undergarment collection including tanks, bodysuits, and shorts. The shorts help keep your tummy in check without cutting off your circulation. The length of the short also helps if you are prone to chaffing. These are perfect for every season, warm or cold climates.
Spanx OnCore shorts
The Spanx OnCore shorts are a shapewear staple. The shorts are mid-thigh and are available in a high waist version. The OnCore shorts have three panels that create a slim hourglass appearance while giving your booty a lift. This shapewear is perfect for fitted and formal apparel.
Spanx Thinstincs 2.0 | Spanx On Core Shorts
Other Posts You May Like:
Pin For Later: