Gift Guides For Her! So many of you have shared how hard it is to buy for the women in your life. Sell Eat Love is here to help. I have linked many items I have and LOVE along with others that would be so great to gift that special mom, sister, in-law, or friend in your life.
A few of my absolute favorites are the Cloud running shoes, the monogram pendant necklace, slip silk pillowcase, the silk hair ties, and the Dry Bar double shot blow dryer. Don't know one girl who would be upset to receive any of these gifts.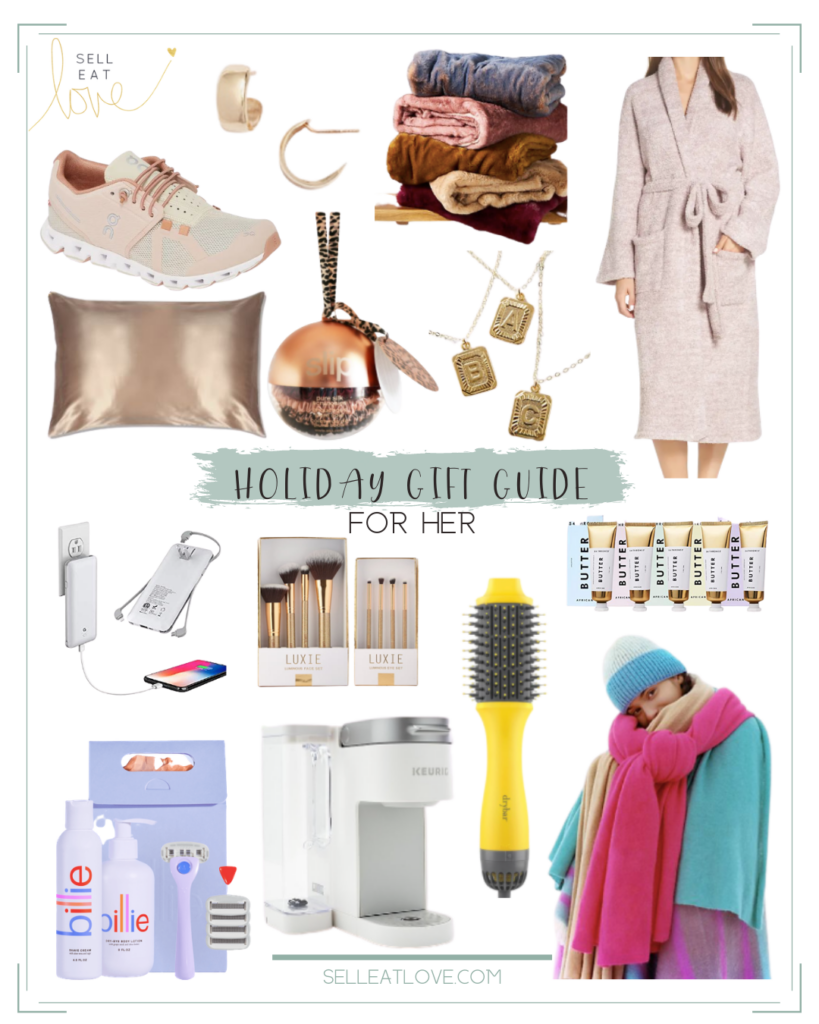 P.S. you can send your hubby, boyfriend, mom, or sister this gift guide for ideas of what you might want!
---

---
GIFT GUIDES FOR HER – NORDSTROM
You KNOW I love Nordstrom, so I wanted to do a specific gift guide for her, Nordstrom addition! These gifts are amazing! For this one, I did throw in a few options for him as well!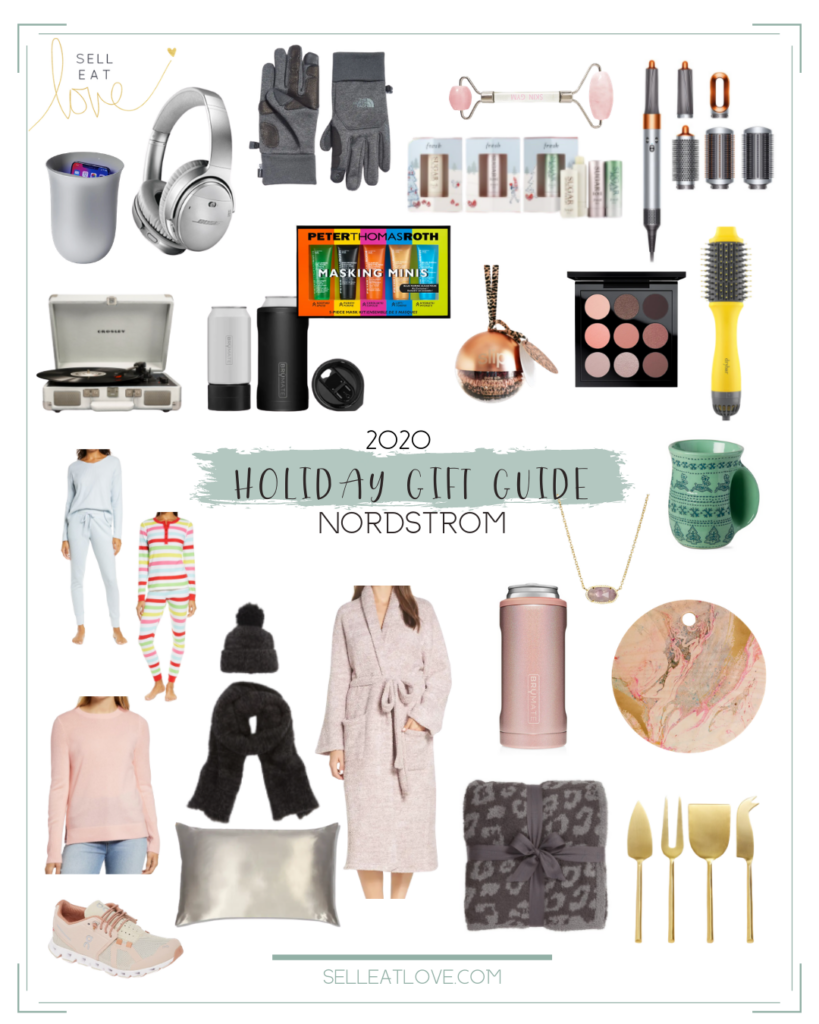 Charger & UV Cleaner| Wireless Headphones w/Google Assist | The North Face Gloves | Deluxe Turntable | Hopsulatro 3-in-1 Trio Can Cooler Set
---
Rose Quartz Facial Roller | Silk Skinny Hair Ties | Airwrap Copper Gift Set | Sugar Lip Trio | Mini Masks |Mac Eyeshadow Palette | Double Shot Blow-Dryer Brush | Serenity Prayer Necklace | Kendra Scott Birthstone Necklace
---
Matching Set 1| Thermal Pajamas | Barefoot Dreams Beanie & Scarf Set| Barefoot Dreams Robe | Barefoot Dreams Throw | Birch Wood Cutting Board | Cloud Running Shoes | Cashmere Sweater | Pure Silk Pillowcase | Hopsulator Slim Can Cooler | Handwarmer Mug | Set of 4 Cheese Knives

---
GIFT GUIDES FOR HER – BLING
Who doesn't want to see a little bling under the tree this Christmas? Since we are staying home more, receiving a great piece of jewelry is the way to any woman's heart. If you are sending this to your beau there are diamond earrings on here that are under $500.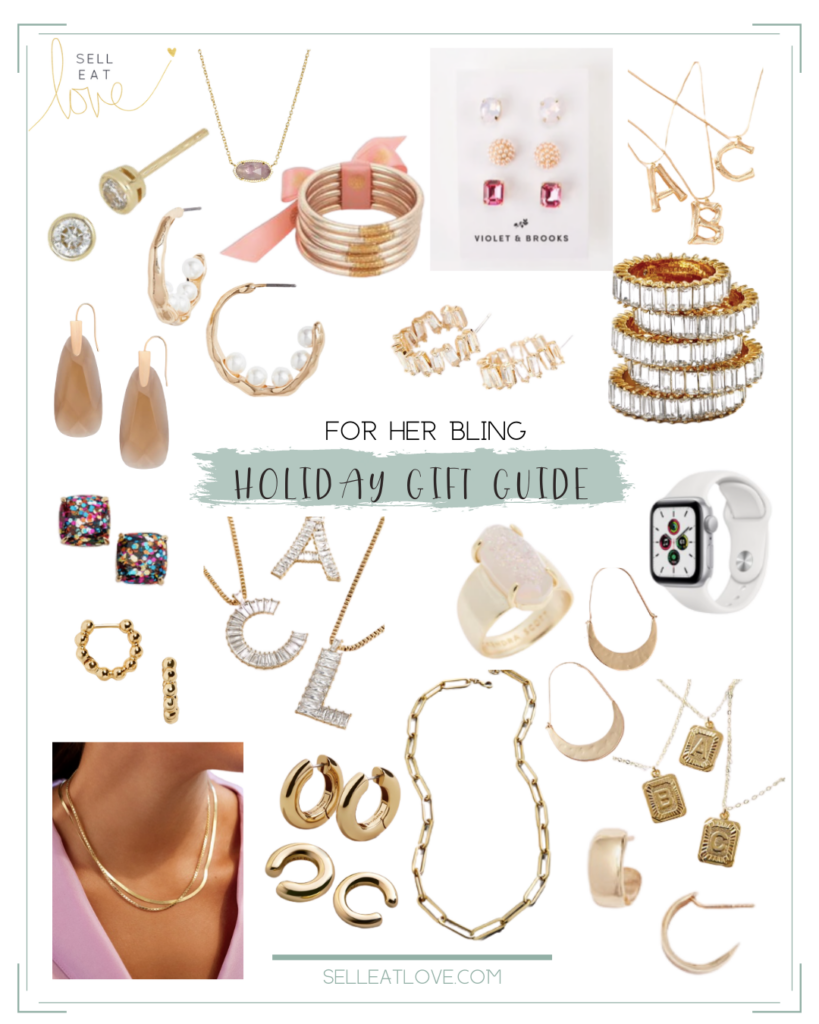 14K Round Cut Diamond Stud Earrings | Elisa Birthstone Pendant Necklace | Serenity Prayer Bangles | Violet & Brooks Earrings | ABC Necklace
---
Kendra Scott Maize Drop Earrings | Pearl Hoop Earrings | Mini Alidia Ring
Multi-Colored Earrings | Pisa Huggie Hoop Earrings | ACL Necklace | Kendra Scott Cocktail Ring | Crescent Hoops | Apple Watch
---
Gia Herringbone Necklace | Huggie Earring Set | Hera Link Necklace |Monogram Pendant Necklace | 14K Wide Hoop Earrings

---
GIFT GUIDES FOR HER – MATCHING SETS & COZY
Winter is coming and staying home is the plan. Help set your mother-in-law, mom, sister, or best friend up for success with all things cozy. I have picked out a few of these and added them to my own wish list.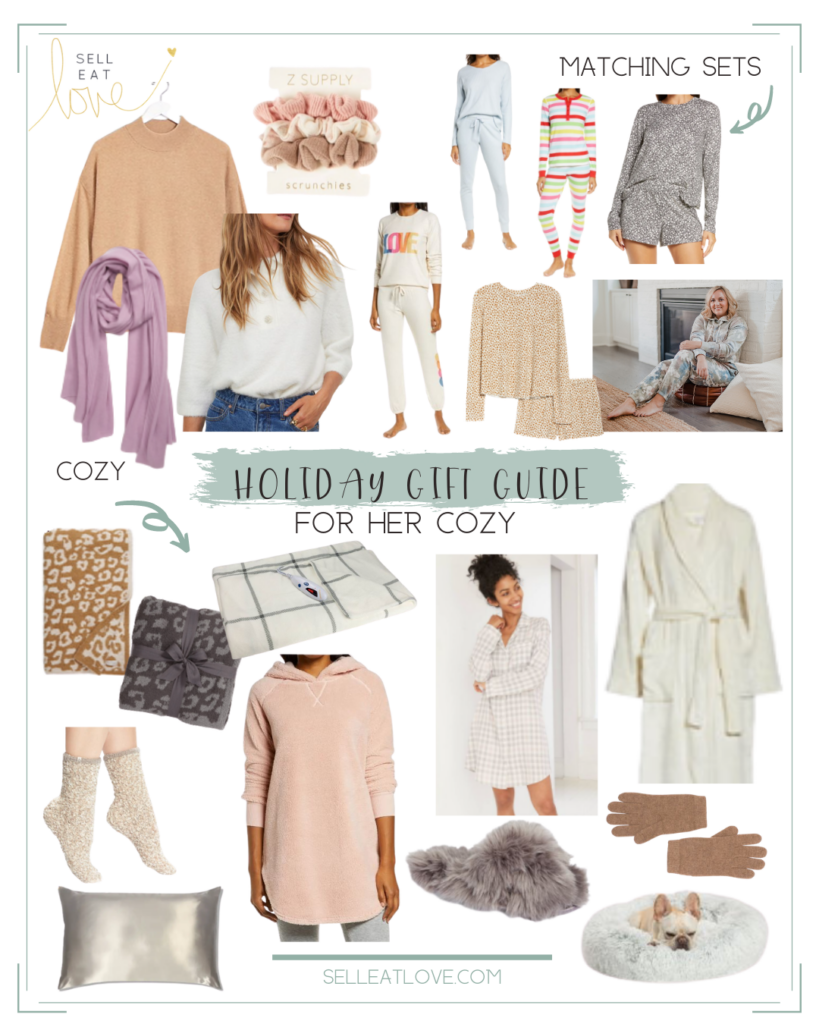 ---
GIFT GUIDES FOR HER – BEAUTY
There are SO many great beauty deals going on right now. Do you have a friend who loves your eyeshadow pallet? A cousin who loves Bastille dry shampoo and you could get her 2 for 1? Or a friend who loves Charlotte Tilbury Pillow Talk lipstick? This is the time of year to get your friends all the beauty products – on sale. Maybe get a little something for yourself, like that new blow dryer you have been eyeing!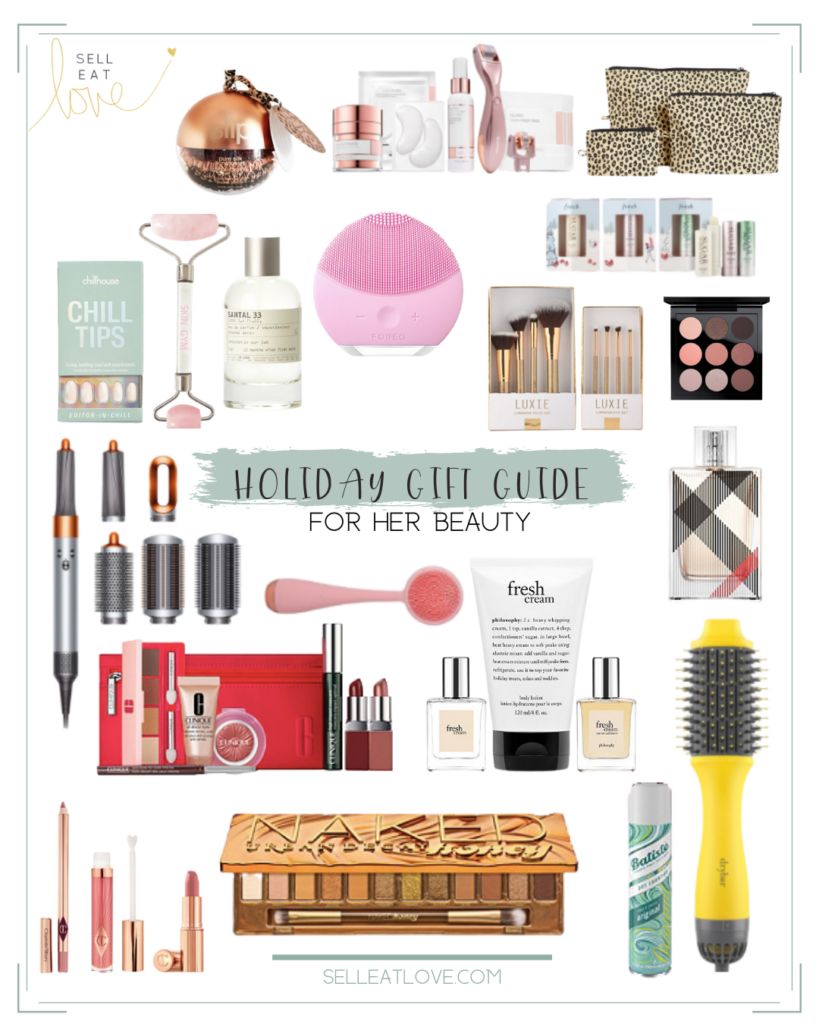 Silk Skinny Hair Ties | Beauty Set | 3 Nylon Zip Pouches
Chill Tips | Rose Quartz Facial Roller | Face Cleaner | Sugar Lip Trio | Face & Eye Brush Set | Mac Eyeshadow Palette |
Airwrap Copper Gift Set | Clinique Set | Pink Brush | Fresh Cream | Perfume
Pillow Talk Lip Secrets Set | Naked | Dry Shampoo| Double Shot Blow-Dryer Brush

If you need ideas for the men in your life, I have a Gift Guide for Him linked here!